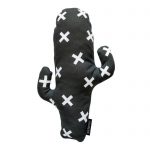 Pulpy Black Cactus Plush Pillow For Babies by Kideroo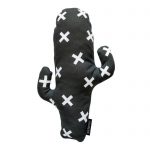 Pulpy Black Cactus Plush Pillow For Babies by Kideroo
R295.40
R295.40
Designed to be the polar opposite in style to the pulpy white cactus plush pillow is the plushy black cactus scatter cushion for babies. Even though they may not look the same the cushion collection shares a lot of features. The pulpy black cactus cushion for babies uses the same kid-friendly organic dyes. The anti-allergenic toy fills are cushy soft and make the black cactus cushions totally snuggle-friendly. The cotton twill material for the cushion makes the cushion feel as soft and smooth as a cloud and kids love falling asleep with it. Since the pulpy black cactus cushion for your baby room is handmade by Kideroo in South Africa like all Kideroo products it also has a superior quality standard. Your child will love playing with the cactus snuggle cushion and these pillows are suitable for all kids between the ages of 0 and 8. Buy the collection of cactus cushions by Kideroo today.
Description
Size Guide
Additional information
Description
Some parents may not think such a stark dark toy is a good fit for their baby room but you be the judge of that. While it is darker than most kid's toys on the market there is a very good reason we use such a severe contrasting monochrome colour for our toys. Recent findings have shown that babies are able to focus better especially when they're younger to toys that are black and white. The subtle white crosses will hold your babies attention. It will improve their learning ability and attention spans. Don't believe us? Read the latest scientific studies yourself.
At Kideroo we do pay a great deal of attention to the well being of our families. Which doesn't only mean the staff and craftsmen who work on hand-making these toys. It also includes our family of customers the parents the kids that play with our toys. That is why such a large amount of our time is spent in ensuring that we only deliver the best highest quality kids toy to you all.
While we're focused on quality it would mean very little if the toys were not affordable. We want these cactus plush pillows to give as many kids joy as we can. That is why we have become operationally efficient to make all our kid's toys as affordable as possible.
They make for stellar gift items for all occasions. Whether your family members are expecting a child or if your friends have already had a child and are celebrating their kid's third birthday the cactus plush baby pillows are a great gift. Soft lovable cuddly and suitable for all children up to the age of 8.
The pulpy black cactus plush pillow for babies is also safe to use for infants as well. All raw materials we use to make the kids' toys at Kideroo are baby friendly and thoroughly tested. Your child is safe when playing with this plush black cactus baby pillow. So what are you waiting for? Get your's today.
Additional information
| | |
| --- | --- |
| Weight | 138 g |
| Dimensions | 26 × 29 × 8 cm |
| Material | 100% Cotton Twirl |
| Color | Black and White |
| Age Group | 0 – 8 years |
| Gender | Unisex |
| Size | Standard |
| Warranty | 0 – 3 months |