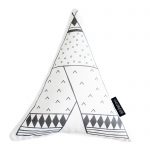 Pulpy Teepee Plush Pillows For Newborns by Kideroo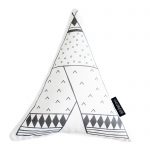 Pulpy Teepee Plush Pillows For Newborns by Kideroo
R270.20
R270.20
The other piece of our pulpy teepee plush pillow collection this pulpy teepee plush pillow for kids by Kideroo has a slightly different design. This plush teepee pillow has been developed keeping the comfort of your child in mind. Another fluffy pillow to add to the Cowboy-Indians theme of your child's room. The monochrome colours also add a touch of class to any room. The monochrome tones also help in developing motor skills learning abilities as well as increasing your child's spatial awareness. The dyes are also risk-free for your child. Made entirely from natural dyes which are baby friendly not to mention they never go out of style. The soft teepee plush pillow for newborn babies is the sweetest cuddliest scatter pillow for your baby. Buy the set or a single cushion for your lovely darling. An affordable delectable first toy for your baby be a part of the Kideroo plush toy baby family.
Description
Size Guide
Additional information
Description
Our handcrafted Pulpy Teepee Plush Pillow is the perfect first toy for your baby. We use 100% cotton twill to make your child's cushion as cuddly as possible. The anti-allergenic toy fill in the scatter cushion for kids makes it soft and safe for your children. The teepee plush cushions are the perfect accessory for your baby room.
The monochrome colours provide a contrasting style to most child toys. The plush teepee pillow has a friendly design on one side leaving the other side blank. You might think it will be troubling to maintain and keep it clean. We've done our best to keep the toy as easy to maintain as possible. A gentle hand wash with some warm water is all that is needed to keep the scatter cushion for your newborn baby squeaky clean.
Weighing in at only 80 gms the scatter pillows for your kid are a perfect size and shape for newborn babies. Suitable for all kids between the ages of 0 to 8 the pulpy teepee plush pillow is an excellent companion for all ages.
The teepee shape and design gives an adventurous spirit to your child's room bringing the Cowboys-and-Indians right into the bedroom. Watch your baby take comfort in snuggling with the teepee-shaped pillow which adorns the entire room. They'll be entertained during the day and will be snuggled into a peaceful sleep at night.
Even though our handmade products are of superior quality we've done our best to make them all available at an affordable rate. We want our comfort cushion for kids to be available for all. Made with love by Kideroo in South Africa these fluffy teepee plush cushions for kids are enjoyed by children all over the world.
An excellent present for your friends baby shower and a unique gift for your nephews first birthday. Our teepee plush scatters pillow is a suitable gift for all occasions.
Additional information
| | |
| --- | --- |
| Weight | 80 g |
| Dimensions | 32 × 27 × 8 cm |
| Material | 100% Cotton Twirl |
| Color | Black and White |
| Age Group | 0 – 8 years |
| Gender | Unisex |
| Size | Standard |
| Warranty | 0 – 3 months |
| Washing Details | How to wash it: Warm gentle hand wash do not soak do not bleach and do not tumble dry. |