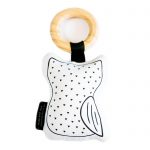 Lovable Owl Plush Baby Rattles For Kids by Kideroo
Lovable Owl Plush Baby Rattles For Kids by Kideroo
R190.40
R190.40
Say hello to our night owl. This lovable owl plush baby rattle stays up all night and watches over your precious darling. The best first toy you should buy your newborn. The unblinking wide eyes of the cuddly owl plush baby rattle toy for kids will keep watch for and scare away nightmares from your young one. This squishy toy for your baby is the perfect size to fit his/her hand. Watch them giggle with delight as the all-natural rattle soothes them with its sound. It's soft and gentle to touch; your child will love how it feels against their skin. The cuddly owl plush baby rattle is also such a safe toy for your child. It is completely made by hand from only 100% twill cotton. The toy fill is also made from anti-allergenic non-toxic material which is perfectly safe even if spilt. Even the teething ring attached to our owl plush baby ring is made from anti-bacterial hardwood. South Africa.
Description
Size Guide
Additional information
Description
Join our little critter plush baby rattle gang. Team up with fox owl bulldog panda and penguin and go on wild adventures. Our lovable owl plush baby rattle toy for kids is a favourite among children ages 0 to 3. It makes a lovely first toy for your child. Buy the owl plush baby rattle and other lovely animal plush rattles for your child's nursery collection.
The owl plush baby rattle is a 100% twill cotton material which makes it as soft as a cloud. It's filled with anti-allergenic toy fill which makes it squishy and fun to squeeze. Since it also weighs only 46 gms it is super light and comfortable for your newborn to play with.
The monochrome colours used on the owl plush baby rattle for kids is also completely safe for children. Newborns can play with the owl plush baby rattle toy with no problem. The monochrome colours also help in developing their brain. Kids introduced to monochrome toys in early childhood show improved motor skills attentiveness. Our owl plush rattle for newborns enhances overall brain development in children.
Our lovable owl plush baby toy for kids is also family friendly. It's an easy toy to maintain. Giving it a gentle hand wash in warm water will make it as good as new. Since it is handmade you are also assured of excellent quality standards. This owl plush baby toy will be a friendly companion to your kid for many years to come.
We've also worked hard to ensure to keep the prices of our products to a minimum because everyone should be able to enjoy it as much as we do. Kideroo makes this little critter animal plush baby rattle set with love in South Africa but it's enjoyed all over the world.
You can buy a single baby rattle toy for kids or buy the entire set and have the snazziest collection in town. The owl plush baby rattle also makes for a fantastic gift item for friends and family.
Additional information
| | |
| --- | --- |
| Weight | 46 g |
| Dimensions | 14 × 12 × 4 cm |
| Material | 100% Cotton Twirl |
| Color | Black and White |
| Age Group | 0 – 3 years |
| Gender | Unisex |
| Size | Standard |
| Warranty | 0 – 3 months |
| Washing Details | How to wash it: Warm gentle hand wash do not soak do not bleach and do not tumble dry. |