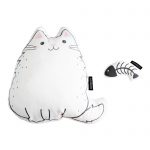 Cute Kitty Cat With Fishbone Cushion Set For Kids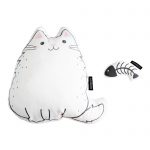 Cute Kitty Cat With Fishbone Cushion Set For Kids
R484.40
R484.40
The purrrfect collection of plush pillows for kids by Kideroo. Ozzy the kitty cat loves to munch on some yummy goodies. While the eco-friendly anti-allergenic toy fills have gone a long way to curving up this fuzz ball his diet of fish also has a lot to do with it. Wherever Ozzy the kitty cat plush pillow goes the cosy fishbone scatter cushions is bound to follow. The collection of both these items makes for a very exciting and fun baby room. Boosting your child's imagination making him/her curious about the different aspects of toys and it is so much fun to play with. The kitty cat fishbone plush pillow collection by Kideroo is also unique in the sense that you get two pillows of such diametrically different sizes. We guarantee your baby will love to play with their pillow collection and they're just waiting for you to get them their first great toy. Buy this affordable pillow set for kids by Kideroo today.
Description
Size Guide
Additional information
Description
What should we say to help convince you to buy this product? Should we talk about how safe it is for newborn infants? You already know Kideroo uses only the best organic natural and baby friendly raw materials it can find. The dyes used on the soft kitty cat and fluffy fishbone plush pillow set are natural and tested to be food grade. The scatter cushions for kids are filled with eco-friendly dust proof toy fill to provide the long-lasting fluffiness that all kids enjoy. Even the 100% cotton twill used to make the outside is natural locally sourced and completely organic.
Should we talk about the high-quality standards that Kideroo has for all of its toys for kids? You already know how each and every soft kitty cat and fluffy fishbone cushion set that is sent out for delivery is handmade in South Africa. Even the micro stitches on the in-seam have been carefully considered as the least likely to cause any irritation to your baby skin. Every toy for your baby passes through various levels of testing before your child can enjoy playing with the fluffy plush pillow collection for kids.
Maybe you'd like to hear more about how the black and white designs on our kid's toys actually help enhance the brain development in young children. How the cushion collections from Kideroo are fun and entertaining while being a learning aid for young babies.
You also know how trustworthy Kideroo from South Africa is as a kid's toy maker. You already know about the 3-month warranty we provide for all our kitty cat and fishbone plush pillow collection. If you find any defect or the product build is not up to your satisfaction let us know why.
You've heard about our products from your friends and family members who have already joined the Kideroo family. So what more can I say that will make you want to buy the soft kitty cat and fluffy fishbone plush pillow set for kids?
Additional information
| | |
| --- | --- |
| Weight | 186 g |
| Dimensions | 33 × 32 × 10 cm |
| Material | 100% Cotton Twirl |
| Age Group | 0 – 8 years |
| Gender | Unisex |
| Size | Standard |
| Warranty | 0 – 3 months |
| Washing Details | How to wash it: Warm gentle hand wash do not soak do not bleach and do not tumble dry. |